This is an archived article and the information in the article may be outdated. Please look at the time stamp on the story to see when it was last updated.
Oscar winner and comedy icon Robin Williams has died at age 63 at his San Francisco Bay Area home, authorities and representatives for the actor confirmed Monday.
The Marin County Sheriff's Office was called to Williams' home in unincorporated Tiburon just after noon Monday, the office stated in a news release.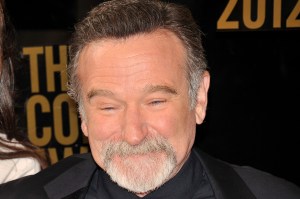 Robin McLaurin Williams was found unconscious and not breathing at the home, the Sheriff's Office stated. He was pronounced deceased two minutes after first responders arrived.
The death was initially suspected to be a "suicide due to asphyxia," according to the Sheriff's Office Coroner Division, the release stated. Williams had last been seen alive at home at 10 p.m. Sunday, a preliminary investigation showed.
An investigation was underway. A forensic examination was scheduled for Aug. 12, with subsequent toxicology testing to be conducted.
"Robin Williams passed away this morning," Williams' media representative Mara Buxbaum said in a short statement. "He has been battling severe depression of late. This is a tragic and sudden loss."
Williams' wife of less than three years, Susan Schneider, issued a written statement.
"This morning, I lost my husband and my best friend, while the world lost one of its most beloved artists and beautiful human beings. I am utterly heartbroken," Schneider said.
"On behalf of Robin's family, we are asking for privacy during our time of profound grief. As he is remembered, it is our hope the focus will not be on Robin's death, but on the countless moments of joy and laughter he gave to millions."
A standup comedian, Williams initially gained fame for his role in the "Happy Days" spin-off "Mork & Mindy," which aired in the late 1970s and early 1980s.
Williams won an Academy Award for Best Supporting Actor for the 1997 film "Good Will Hunting."
President Barack Obama extended his family's condolences in a statement.
"Robin Williams was an airman, a doctor, a genie, a nanny, a president, a professor, a bangarang Peter Pan, and everything in between.  But he was one of a kind," Obama said. "He arrived in our lives as an alien – but he ended up touching every element of the human spirit.  He made us laugh.  He made us cry.  He gave his immeasurable talent freely and generously to those who needed it most – from our troops stationed abroad to the marginalized on our own streets."
Near Williams' star on Hollywood Boulevard, crowds gathered to pay their respects to the actor and humanitarian.
Christopher Melrooney was a soldier in Iraq when he met Robin Williams during a USO tour in 2003.
"This arm came around me … startled me … and I turned with my rifle," Melrooney said.  "And he goes, 'whoa, note to self, do not startle soldiers on guard duty.'"
Melrooney hoped Williams' family realized how much he meant to his fans.
"I just hope the family knows that we cared for him … that we appreciated him," Melrooney said.