This is an archived article and the information in the article may be outdated. Please look at the time stamp on the story to see when it was last updated.
Homicide detectives have discovered additional skeletal remains while searching for evidence at the site of a burnt-out home near Littlerock where the remains of three individuals were found earlier this month, officials said Tuesday.
But investigators are unsure where the newly uncovered remains belong to additional individuals, or the three already found, the Los Angeles County Sheriff's Department said in a news release.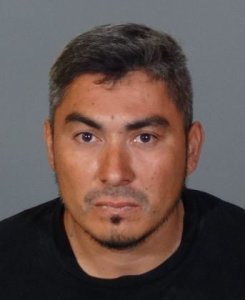 An allegedly armed and dangerous person of interest identified in the case last week, 34-year-old Jesus "Chuy" Guzman, remains on the lam, authorities said.
Guzman previously lived at the residence being investigated on the 30900 block of 106th Street, in the unincorporated community of Juniper Hills, where only the charred remains on a home and pair of outbuildings remains, according to investigators.
Detectives are hoping to question Guzman in the case.
Marvin Rogers, who lives up the hill from the property, previously told KTLA law enforcement showed up there earlier this year after pricey equipment — including jet skis, boats, new cars and a construction truck with a tractor — began popping up on the property.
Rogers said he found the sudden deliveries especially odd since he had never seen anyone at the home and didn't know who lived there.
The causes of death of the people found on the property are unknown, but the circumstances are being considered suspicious, officials said.
Investigators have not commented on whether the deceased individuals could be related to the unsolved disappearance of three friends who lived together in Littlerock.
Jose Lara Paez, Cuauhtemoc Lara and Julieta Arvizu all have not been seen or heard from since Jan. 14, though they were reported missing by family members on separate dates.
A $20,000 reward has been tied to information on their whereabouts.
Meanwhile, detectives are also hoping to locate Guzman. Authorities describe him as being 5 feet 5 inches tall and weighing around 150 pounds with black hair and brown eyes. He usually frequents the areas of Littlerock, Palmdale, Adelanto, Riverside, Compton and Victorville, officials said.
He owns a black 2009 Toyota Corolla with California license plate number 6SCD663.
Authorities urged anyone who sees him to not make contact with him but immediately contact the Sheriff's Department instead.
Anyone with information can contact the Homicide Bureau at their 24-hour number, 323-890-5500. Anonymous tips may be submitted via Crime Stoppers at 800-222-8477 or LACrimeStoppers.org.