This is an archived article and the information in the article may be outdated. Please look at the time stamp on the story to see when it was last updated.
This year's annual spring break Deltopia party near the campus of UC Santa Barbara over the weekend resulted in 130 arrests, nearly six times more than in 2013, according to new statistics released Tuesday.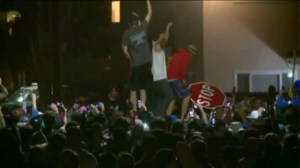 Thirty-six of the arrests were made on Friday and 94 on Saturday, according to the Santa Barbara County Sheriff's Office. Last year, there were only 22 arrests, officials wrote in a news release issued Tuesday.
In addition, there were 190 citations, 50 medical transports and 520 law enforcement calls for service, according to the department.
In 2013, there were only 116 citations, 44 medical transports and 340 calls for service, according to the sheriff.
Much of the trouble began Saturday when a UCSB police officer was hit in the head with a backpack containing large bottles of alcohol, according to a news release from the Santa Barbara County Sheriff's Department.
"It knocked him down, split his forehead open to the point that he needed extensive suturing," Santa Barbara County Sheriff Bill Brown said.
The incident led to the arrest of 17-year-old Desmond Louis Edwards, from Los Angeles.
His arrest triggered an angry response from other partygoers who threw rocks and bottles at law enforcement personnel, the release stated.
Authorities planned to try Edwards as an adult on charges of assaulting and resisting a police officer and numerous additional charges, according to the Santa Barbara County District Attorney's Office. The others who were arrested during the rioting were booked on suspicion of participating in an unlawful assembly and refusing to disperse, both misdemeanors, the release stated.
Fifty people were transported to area hospitals during the Deltopia event. More than half sustained injuries during the melee, including four law enforcement personnel.
Investigators were looking through video of the event to try to identity individuals who were actively involved in the disturbance.
Anyone with video of the incident was urged to email it to video@sbsherrif.org or call the Sheriff's Special Investigations Division at 805-681-4175.