This is an archived article and the information in the article may be outdated. Please look at the time stamp on the story to see when it was last updated.
Los Angeles County health officials issued a warning Wednesday after confirming a measles case involving a resident who traveled through the Los Angeles International Airport in September.
Authorities urged anyone who was at the following locations on Sept. 20 and 21 to monitor themselves for symptoms. After initially releasing exposure warnings Wednesday, officials updated the locations and times Friday to:
Sept. 20 at 10:45 p.m. to Sept. 21 at 1 a.m. – Terminal 4
Sept. 20 at 11 p.m. to Sept. 21 at 1:20 a.m. – parking spot at Century Airport Shuttle from LAX, Terminal 4, to 5701 W. Century Blvd., Los Angeles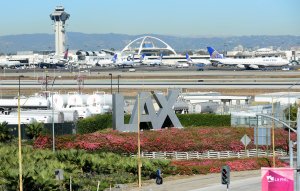 People should check their immunization record and watch out for fever and/or unexplained rashes seven to 21 days after possible exposure, according to the county Department of Public Health . Those who weren't immunized, pregnant, parents of infants or have a weakened immune system should contact their health care provider.
Authorities said if symptoms develop, "stay at home and call a healthcare provider immediately."
Seventeen measles cases have been reported among L.A. County residents in 2019, in addition to 11 measles cases involving non-residents who traveled through the region.
"For those who are not protected, measles is a highly contagious and potentially severe disease that initially causes fever, cough, red, watery eyes, and, finally, a rash," county Health Officer Dr. Muntu Davis said in a statement. "Measles is spread by air and by direct contact even before you know have it. The MMR immunization is a very effective measure to protect yourself and to prevent the unintentional spread of this potentially serious infection to others."