This is an archived article and the information in the article may be outdated. Please look at the time stamp on the story to see when it was last updated.
A federal judge has issued a temporary restraining order preventing immigration agents from transferring outside of Southern California an Afghan family that attorneys say had been granted special immigration visas but whose members were detained when they arrived in Los Angeles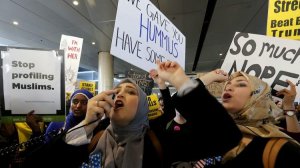 The order, issued Saturday evening, also says the government cannot bar the family members from access to their attorneys.
The father, mother and their three children — ages 7, 6 and 8 months — arrived at LAX on Thursday afternoon for a connecting flight to Seattle, where they planned to resettle, but were detained by U.S. Customs and Border Protection, according to Talia Inlender, a senior staff attorney with Public Counsel, a nonprofit organization that provides free legal services.
The family had been extensively vetted and approved for the visas because of the father's work with the U.S. government, according to a federal court petition filed Saturday seeking release of the family.
Click here to read the full story on LATimes.com.