This is an archived article and the information in the article may be outdated. Please look at the time stamp on the story to see when it was last updated.
Frustration over conditions in the county's jails spilled over Friday morning as protesters temporarily shut down part of a street leading to the main jail complex near downtown Los Angeles, prompting a brief confrontation with police.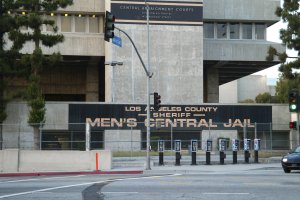 Fueling the demonstrators' concerns were the deaths of four inmates in nine days this month, all stemming from incidents at jails run by the Los Angeles County Sheriff's Department.
A 48-year-old inmate at Twin Towers Correctional Facility died of suicide by "hanging, strangulation" late Thursday, according to a document obtained by The Times. The man had been on life support at a hospital since Feb. 24, when he was found lying face-down on a bunk with a shirt around his head, according to the document written by Deputy G. Matthews.
Department spokeswoman Nicole Nishida confirmed that there were four deaths including a suicide this month, but she declined to provide specific information, citing ongoing investigations.
Click here to read the full story on LATimes.com.