This is an archived article and the information in the article may be outdated. Please look at the time stamp on the story to see when it was last updated.
ARCATA, Calif. — For 36 hours, the faculty and students at Humboldt State University juggled normalcy and disaster as best as they could, trying to help a busload of shell-shocked youngsters from Los Angeles get through what should have been a typical college visit.
The youths were the other half of a charter group that had left Southern California on Thursday in two motor coaches — the second of which collided with a FedEx truck and burst into flames, leaving 10 dead and dozens injured. A third motor coach carried students from Fresno and Sacramento.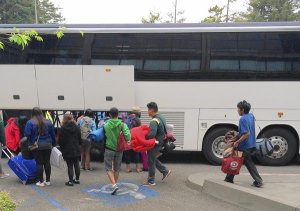 "We're trying to keep things normal," said Dan Saveliff, a university director, as he corralled a reporter who arrived Saturday to attempt to interview students before they returned home early. The usual Saturday afternoon barbecue on the beach had been called off so students could get home sooner.
They were part of a group of minority and largely first-generation high school students Humboldt has recruited to enroll in California's most out-of-the-way public university. About 45% of those who accept the bus ride wind up returning as students, a primary source of ethnic and social diversity for Humboldt and also Arcata, the coastal village that forms the other half of the local population.
Click here to read the full story on LATimes.com.