This is an archived article and the information in the article may be outdated. Please look at the time stamp on the story to see when it was last updated.
After Corona Fire Department crew treated a man who collapsed while mowing his lawn, firefighters sent him to the hospital and finished the yard work themselves on Wednesday morning.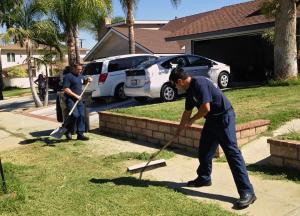 The sweet story was posted to the Fire Department's Facebook page with a photo of two crew members sweeping up grass clippings on a residential sidewalk.
"Serving our City with Pride," the Facebook post read.
The crew from Engine 1 was responding to a call about a resident who lost consciousness while mowing his lawn, according to the post. First responders provided "ALS treatment" and sent the male patient to the hospital in an ambulance, the post stated, apparently referring to advanced life support service.
Firefighters stayed while the man's wife and baby prepared to go to the hospital, cleaning up and putting away the lawn mower, Fire Departments spokeswoman Lynn Mata said.
"We do that a lot. We look after our community — it's pretty tightly knit," Mata said.
The patient lost consciousness for unknown reasons then fell, injuring his nose and bloodying himself in the process, Mata said. He was treated and transported but was "in pretty good shape" after the 11 a.m. emergency response, she said.
The incident followed a similar heart-warming in Santa Barbara over the weekend.
In that incident, firefighters trimmed an elderly woman's vegetation after she was injured by tripping over shrubbery.
"That's why we're all here — we're all here to serve the public," Santa Barbara city firefighter Tyler Smith said. "Usually we do that in emergency situations. But this is one of those times we were able to do it another way."