This is an archived article and the information in the article may be outdated. Please look at the time stamp on the story to see when it was last updated.
After five years of searching, a Pasadena family's relentless effort to find their daughter a kidney has paid off.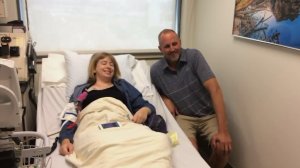 Two weeks ago, 31-year-old Jenna Franks received a kidney that will allow her to transition of the dialysis treatment she has required on and off since high school.
"I didn't really believe it was happening until I was at the hospital getting ready for surgery," Franks told KTLA on Wednesday.
When she was a teenager, Franks was diagnosed with a rare urological defect that destroys the kidney. Her family was acutely aware of her condition's seriousness — her mother's father had died at 28 of kidney disease.
Franks first was put on dialysis during her senior year of high school, and the treatment continued for more than three years until she received her first kidney transplant at age 20. But after five years, that kidney began failing, too.
Her family said they still don't know whether that kidney's short lifespan was a fluke — transplanted kidneys from deceased donors usually last an average of 12 years — but it made finding a new match especially difficult because of the antibodies a person develops after a transplant that sensitize them against many potential donors. Even without that, it's not unusual for someone with Franks' O blood type to sit on the transplant waitlist for 10 years in the Los Angeles area.
"We lose people every year that couldn't wait — they die," Franks' mother, Karol, said of the waiting list.
That led the family to launch a widely publicized campaign — spearheaded by Karol — that included an aggressive social media presence and unmissable messages written on the family SUV.
Finally, Gary Frey, a Marine from New Mexico, came along. As a father himself, the Franks' story pulled at his heartstrings.
"I just could see the love and dedication," he said. "I can't imagine having to sit back and watch your kid go through that."
Though he wasn't a match for Jenna, Frey agreed to enter a swap program, giving his kidney to someone who could accept it in exchange for a voucher allowing Jenna to move up in the waitlist and receive a kidney from another stranger.
And finally, Jenna found a match. She said the transplant makes her feel "more positive and hopeful about the future" than she has in years.
All the family's effort has more than paid off, Karol said.
"I'm really pleased, and I just look at her face and the color is better," she told KTLA. "There's so much opportunity for her now just to enjoy life, just to be like everyone else."
But now, the family has a new cause. Since Frey covered for his own travel expenses and costs associated with being a donor, the family has set up a GoFundMe campaign that will go toward paying him back, as well as supporting Jenna's recovery.