This is an archived article and the information in the article may be outdated. Please look at the time stamp on the story to see when it was last updated.
Los Alamitos was the first government agency in Orange County to fire a salvo against California's so-called sanctuary laws, which aim to shield immigrants here illegally from deportation, but it might not be the last.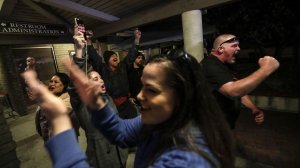 Costa Mesa Mayor Pro Tem Allan Mansoor — who in 2010 spearheaded a City Council action to declare Costa Mesa a "rule-of-law city when it comes to support for upholding immigration laws" — said he's open to looking at ways to work more closely with U.S. Immigration and Customs Enforcement.
"The resolution was a clear statement that we uphold our laws here and that we are not a sanctuary city," Mansoor said Thursday, adding that he "would like ICE to come to Costa Mesa and simply do the job they are sworn to do."
In Fountain Valley, Councilman Larry Crandall has asked city staff for information on how the state's sanctuary laws could affect the city's federal funding.
Read the full story on LATimes.com.