This is an archived article and the information in the article may be outdated. Please look at the time stamp on the story to see when it was last updated.
Recent mountain lion sightings at an Orange County park that was the site a fatal mauling 10 years ago have prompted authorities to issue warnings to hikers and mountain bikers.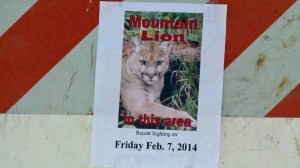 New surveillance cameras monitoring trails have been installed and notifications have been placed at Whiting Ranch Wilderness Park, Orange County's parks department said in a statement issued Tuesday.
The actions come after a photo of a mountain lion in the park began circulating on social media, according to the statement. Sightings were reported on Feb. 7 and Feb. 9 on the Borrego Canyon Trail in the park.
Earlier this month, state wildlife officials responded to Riverside County after a homeless man in Perris was apparently attacked by a mountain lion, but DNA tests proved inconclusive.
At the Orange County park, in the unincorporated Foothill Ranch community, wardens from the California Department of Fish and Wildlife were helping parks personnel with an investigation, according to the statement sent out by OC Parks.
Rangers were at the park, handing out flyers on Wednesday. Steve Aleshire, senior park ranger with OC Parks, had some advice for park-goers who encounter mountain lions.
"Hold your ground. You don't run. Wave your arms, yell," Aleshire said. "If need be, pick up maybe a rock or a stick, and make yourself appear larger to the animal."
Hikers were warned to stay alert and not allow minors to roam the park alone.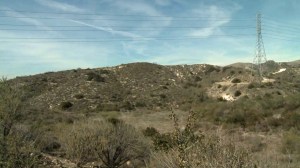 Whiting Ranch Wilderness Park (map) was the location of two attacks in 2004 on mountain bikers, including one that killed a 35-year-old man. In a separate incident around the same time, a 30-year-old female mountain biker survived an attack by a mountain lion that pulled her off her bike.
The mountain lion responsible for the attacks was killed by authorities.
Since then, only three nonfatal attacks have occurred in the state, one in the Sequoia National Forest and two others in Northern California. The most recent attack — on a 63-year-old male who was bit and clawed in his sleeping bag — was in Nevada County in 2012.
In all, only 15 mountain lion attacks in California have been recorded since 1986, including three fatalities, according to state data. Four fatalities around the turn of the 20th century were attributed to mountain lion attacks, according to the state.
Authorities asked that additional mountain lion sightings at Whiting Ranch Wilderness Park be reported in detail as soon as possible at 949-923-2245.
https://twitter.com/Steve_Grad/status/432563120272199681/photo/1