This is an archived article and the information in the article may be outdated. Please look at the time stamp on the story to see when it was last updated.
A transient woman who was suspected of abandoning her infant at a Subway restaurant in West Covina after giving birth there was arrested on suspicion of attempted murder Monday, police said.
A customer noticed a bleeding woman leaving the restroom and told an employee, and then the two went into the facility together, police said.
"They saw an umbilical cord leading into the toilet," West Covina Police Department Cpl. Rudy Lopez said.
The child was found crying, upright and half-submerged in the water, Lopez told reporters. A 911 dispatcher instructed the employee to get the child out of the toilet and wrap him in towels.
The discovery was made at the sandwich chain location at 2540 S. Azusa Ave. shortly after 8:30 a.m.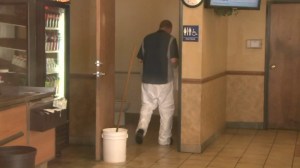 The baby boy was full term, and had his umbilical cord still attached, Lopez said. The placenta was found in the trash can.
"The baby's crying, so that's a good thing," the emergency dispatcher could be heard saying in a recording of the 911 call.
The little boy was taken in critical condition to Queen of the Valley Hospital, Lopez said. The infant was in neonatal intensive care, Patton said.
The mother, identified as a 38-year-old Filipina transient named Mary Grace Trinidad, was believed to have given birth at the Subway, but it wasn't immediately known if the infant was born directly into the toilet, Lopez said. He described the scene as quite bloody.
About 20 minutes after the baby was discovered, the mother was arrested close to the Subway, according to police Lt. Dennis Patton. She left a trail of blood, which officers followed to Trinidad, who was found in an alleyway behind a nearby Pep Boys.
Trinidad was booked on suspicion of attempted murder and child endangerment. She had been wanted on a drug-related warrant, Lopez said.
She was also hospitalized, as a precaution, the corporal said.
Employees at the Subway did not want to speak to news media about the incident. Workers at a neighboring restaurant said Trinidad was well known in the area and would ask for food every day.
"I see her all the time. She talks to herself," local resident Sammy Valdez told KTLA. "I can tell she's not mentally stable."
Newborns 72 hours or less old may be surrendered to authorities without criminal repercussions under California state law. In Los Angeles County, infants can be safely surrendered at fire stations and hospitals.
KTLA's Jennifer Thang contributed to this article.