This is an archived article and the information in the article may be outdated. Please look at the time stamp on the story to see when it was last updated.
Across the Sierra Nevada Mountains this weekend, residents and officials are assessing the damage from a series of powerful storms before a new round from the atmospheric river arrives next week.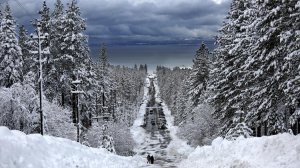 Some homes in northern Sierra communities have been left without power for more than a week because of this week's blizzard, which locals say has been the worst in a decade.
"We had over 10 feet of snow in portions of the community. Everyone had at least 3 to 5 feet of snow, all in about a two-day period. And that's a pretty extraordinary level of snow," said Truckee Donner Public Utility District spokesman Steven Poncelet.
The culprit was a moment in the middle of the week when the storm became warmer. Instead of causing nice, dry powder that comes with colder storms, this system dumped slushy, dripping, heavy snow, which locals call "Sierra cement."
Click here to read the full story on LATimes.com.