This is an archived article and the information in the article may be outdated. Please look at the time stamp on the story to see when it was last updated.
Anaheim removed bus benches near Disneyland in response to complaints about homeless people sleeping on them and loitering nearby.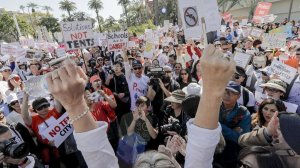 Then Orange County pushed hundreds out of an encampment along the Santa Ana River trail. Officials have also vowed to remove the tent city that has taken root at the Santa Ana Civic Center.
But as the county and some of its cities take steps to push out homeless people, the problem of where they should go remains unsolved. And it became abundantly clear Tuesday that finding places willing to host new homeless shelters is going to be a huge political challenge.
More than 1,000 people converged on the Orange County Board of Supervisors meeting to protest a plan to relocate those removed from along the river to temporary shelters in Irvine, Huntington Beach and Laguna Niguel.
Read the full story on LATimes.com.