This is an archived article and the information in the article may be outdated. Please look at the time stamp on the story to see when it was last updated.
The man accused of stabbing a Los Angeles County Sheriff's deputy in the chest outside a fast food restaurant in Santa Clarita has pleaded not guilty Wednesday to attempted murder charges in the case, the L.A. County District Attorney's Office announced.
Donald Chinchilla, 21, pleaded not guilty to deliberate, premeditated attempted murder of a peace officer. The attack happened on Monday, when prosecutors say Chinchilla confronted a sheriff's deputy in the parking lot of a Jack in the Box in Canyon Country at about 10 a.m.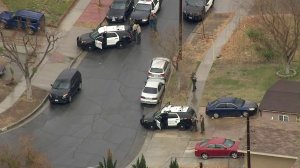 He walked up to the deputy and asked him if he was an officer, officials said. When the deputy answered yes, Chinchilla allegedly stabbed him in the chest.
The victim was a 26-year veteran with the Sheriff's Department, officials said. He was not wearing his uniform but did have a badge on. He survived the stabbing.
A large kitchen knife was recovered from the scene of the crime by authorities, the Los Angeles Times reported.
Chinchilla fled the scene and a manhunt was soon launched by local law enforcement.
#LASD SEB and @SCVSHERIFF personnel worked together to locate and arrest the assault w/deadly weapon on a Deputy suspect in the area of Nearbrook St. and Altamere Ave, Canyon Country. Neighborhood is safe. pic.twitter.com/sUkpH9prvY

— SEB (@SEBLASD) January 8, 2018
He went into a nearby neighborhood where he was found hiding in a backyard by a K-9 unit who bit him, Sheriff's Department officials said.
The charges facing Chinchilla include a special allegation that he inflicted great bodily injury to the victim. The criminal complaint also alleges he personally used a deadly and dangerous weapon during the attack.
His bail has been set at $1.05 million and he is scheduled for a preliminary court hearing on Feb. 14. The maximum sentence he faces, if convicted, is 19 years to life in state prison.