This is an archived article and the information in the article may be outdated. Please look at the time stamp on the story to see when it was last updated.
Residents in several communities in the San Bernardino Mountains were without power following a series of storms that dumped over 2 feet of snow in the area, authorities said Friday.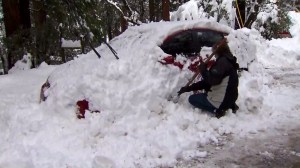 Forest Falls, Jenks Lake and Barton Flats were all without electricity, according to Tracey Martinez, a spokeswoman for the San Bernardino County Fire Department. Southern California Edison data showed Lake Arrowhead was affected as well.
Residents were not stranded and mountain roads had been cleared of snow, Martinez said. Roads were blocked in the area to allow access only to residents, she said.
Access was limited at Valley of the Falls Drive on Highway 38 because Southern California Edison was working to restore power.
Fire Battalion Chief Larry LaVogue said his main concern was access to the area for utility crews working to restore power. The roadway was closed to facilitate cleanup and help get electricity running again, he said.
Photos from the area showed the storm left trees down and power lines cut, and some were coping with fallen trees and vehicles still buried in snow.
Josh Olsen said a pine tree fell on two vehicles in his garage and struck his neighbor's propane tank.
"Then later on, about noon yesterday, a branch from this tree fell and crushed the rest of the car," Olsen said Friday, gesturing overhead.
Another could fall at any time, he said. His wife and children have left the home for safety reasons.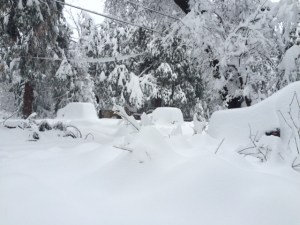 KTLA viewers told the station that residents in Forest Falls had been without power since Wednesday.
Southern California Edison's outage map showed nearly 600 customers in the Forest Falls area without power as of Friday morning. About 175 were affected in the Jenks Lake area.
Those residents were not expected to see power restored until over the weekend, with some not until Sunday evening, according to Edison estimates.
Nearly 1,000 were without power in Lake Arrowhead, but they were expected to see power restored Friday afternoon, the map showed.
Those who need shelter during the "prolonged power outage" were asked to call the American Red Cross immediately at 909-380-7230.
Residents in Forest Falls, Jenks Lake & Barton Flats without power. Hwy 38 road blocks - access to residents only. pic.twitter.com/KX9zIsOff7

— SB County Fire (@SBCOUNTYFIRE) January 8, 2016
Power Outage in Forest Falls - Restricted vehicle access SR38 x Valley of the Falls Drive - drive carefully crews working in the area

— San Bernardino National Forest (@SanBernardinoNF) January 8, 2016
Blankets & flashlights avail for Forest Falls/Jenks Lake/Bear Valley residents at Mill Creek Rd (Hwy 38) & Bryant St pic.twitter.com/2EyEwZZI5w

— SCE (@SCE) January 8, 2016
#SBMountains - If traveling on SR-18, SR-38, and SR-330, expect delays due to high traffic volumes and current mountain road conditions

— Caltrans District 8 (@Caltrans8) January 8, 2016
How is the El Nino weather phenomenon impacting California? Satellite animation shows storms over the past 3 days.https://t.co/0CClwVjWc5

— NASA (@NASA) January 8, 2016