This is an archived article and the information in the article may be outdated. Please look at the time stamp on the story to see when it was last updated.
A day after some 70,000 gallons of water cascaded through the streets of Eagle Rock amid planned work on a water pipe, LADWP was explaining Tuesday what happened to 100 times that amount in a nearby reservoir.
After neighborhood criticism, the public utility had rushed to capture about three-quarters of the flow that had residents grabbing buckets and griping about DWP hypocrisy on Monday.
The water was being drained from a corroded pipeline that had to be replaced in order for work on the Eagle Rock Reservoir to continue, the Los Angeles Department of Water and Power said.
While residents complained about the water loss in the face of drought-time calls to conserve, a top DWP water official said those reactions were appreciated.
"It shows that people understand the severity of the drought and they're concerned about the water supply, which is something we're actually glad to see," said Martin Adams, senior assistant general manager of the water system at LADWP, on Monday. "I'm glad we got called on this. Someone said, you can't continue to do this the way you always have. You need to do something different."
The water flow was the equivalent of about four backyard residential swimming pools, Adams said.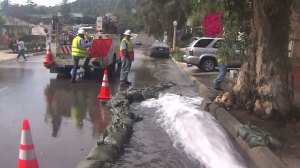 "We lost about one of those; we saved about three of them," he said Tuesday. "Because of the drought, that water is much more valuable than it's been in the past. So, we are going to start capturing the water instead of releasing it to the storm drains."
The water waste prompted questions about the fate of the H20 that had been held in the now-drained Eagle Rock Reservoir, which was undergoing work to get a cover to comply with new drinking water standards.
The reservoir was drained in recent weeks, officials said. Most of what was in the reservoir, which holds up to 80 million gallons, was saved and put back into DWP's water system, according to Adams.
But about 7 million gallons at the bottom of the reservoir were lost, having been deemed undrinkable and too full of sediment, DWP spokesman Joe Ramallo said.
That water was drained off, he said.
The questions about the reservoir arose on the same day that the State Water Resources Control Board approved new, stricter restrictions on outdoor watering, among other conservation measures.
L.A. Councilman Jose Huizar said he found the water loss from the pipe in Eagle Rock "completely unacceptable." He planned to introduce a motion on Wednesday asking DWP to explain its procedures.
More video: