This is an archived article and the information in the article may be outdated. Please look at the time stamp on the story to see when it was last updated.
A second woman made public allegations of sexual abuse on Thursday against a former Alhambra High School administrator who resigned after a first alleged victim accused her in a widely watched YouTube video.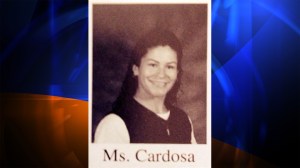 At a news conference with her attorney, the 18-year-old woman, identified only as Brianna, said she was abused as a 14-year-old student in Val Verde Unified School District by Andrea Cardosa, the former Alhambra High administrator.
A claim against the school district — the first step toward a civil lawsuit — was filed Wednesday by Brianna's attorney.
Speaking at the news conference with reporters, Brianna said the district should have protected students. The alleged abuse occurred at Thomas Rivera Middle School in Perris in 2009 and 2010, according to the claim, more than a decade after the abuse alleged in the YouTube video.
"This should have never happened, and I don't wish this upon anybody," Brianna said.
The legal action came five days after a 28-year-old Victorville woman, Jamie Carrillo, posted an emotional video showing her making a phone call to a woman she said sexually abused her for years. In the video, the woman confirmed she was "Ms. Cardosa" and did not deny the relationship.
Carrillo said Cardosa had been her basketball coach at Chemawa Middle School in Riverside when the alleged abuse began. The caller said she regretted and was ashamed of the sexual relationship that Carrillo asked her about.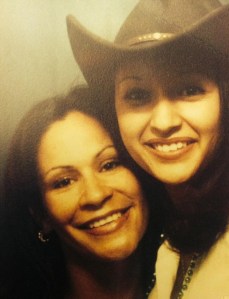 "I want her to be in jail and pay for what she's done," Carrillo told KTLA in an interview. "She shouldn't be around children."
Cardosa resigned from her position as an assistant principal shortly after a link to the YouTube video was sent Jan. 17 to administrators at Alhambra High, the school district's superintendent said. Cardosa had worked for the Alhambra Unified School District for four months, according to the superintendent.
Alhambra police were alerted to the video, and they turned the matter over to Riverside police, who said they were investigating the allegations. No crimes occurred in Alhambra, police said.
Shortly after Carrillo posted the video, she was contacted by Brianna, who said she too had a relationship with Cardosa.
"She began to bribe me with things like movie tickets, candy bars and a trip to lunch and all kinds of stuff," Brianna wrote in a message that Carrillo shared with KTLA. "Now I realize that, after everything, she was obsessed with me. Maybe in love."
Brianna wrote that she recognized Cardosa's voice from Carrillo's YouTube video. Seeing the video on television, Brianna "'put the pieces of the puzzle together' and … discovered that she too had been sexually molested by Andrea Cardosa," the legal claim against Val Verde Unified stated.
"I stopped talking to her about my sophomore year because I just completely felt uncomfortable by her," Brianna wrote to Jamie Carrillo. "I don't want money or anything, but to just simply tell you that there are other girls out there."
Brianna was being represented by Luis Carrillo, who has been the attorney for victims of Mark Berndt, the former Miramonte Elementary School teacher who pleaded no contest in November to 23 counts of lewd conduct in a sexual abuse scandal at the LAUSD campus.
Luis Carrillo asked that Brianna only be identified by first name, and he asked television news stations to blur her face. Copies of legal documents were shown to news media with the plaintiff's surname blacked out.
Brianna's alleged experience with Cardosa, the attorney said, was a lot like Jamie Carrillo's.
"The similarities are eerie, are scary — the manipulations for both kids," Luis Carrillo said.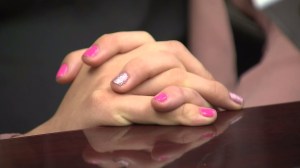 He called for schools to keep any complaint against employees in their personnel files for 20 years.
In addition to filing a claim against Val Verde Unified, Brianna filed a claim against Riverside Unified School District, where Jamie Carrillo was a student.
That claim states the Riverside school district failed to adequately monitor Cardosa and protect students from sexual predators, and negligently "provided positive information about Ms. Cardosa" when she applied for a job at Val Verde Unified.
The claim against Val Verde Unified stated the district knew about Cardosa's "propensity to sexually abuse and/or sexually harass students" before the alleged relationship with Brianna.
Both claims were for monetary damages.
At the news conference, Carrillo did not go into details about the alleged relationship between Brianna and Cardosa. Brianna spoke briefly, saying Cardosa had turned her against her mother. Cardosa made Brianna think "all I needed was her," the teen said.
"My mother was the first victim — by convincing my mother that she would do great in my life," Brianna said.
Val Verde Unified School District Chief of Security Chris Wynn acknowledged the allegations in a one-sentence statement.
"We are fully cooperating with law enforcement and now that it is a matter of pending litigation, comments will not be made," Wynn said.
KTLA has been unable to reach Cardosa for a response to the allegations.
KTLA's Christina Pascucci contributed to this article.