This is an archived article and the information in the article may be outdated. Please look at the time stamp on the story to see when it was last updated.
An off-duty Los Angeles firefighter was killed and a boy passenger was in critical condition after a small, private plane crashed near El Mirage Lake in the Mojave Desert on Monday, according to authorities.
The crash occurred at the northwest end of the dry lake bed (map) around 11:10 a.m, according to the San Bernardino County Fire Department.
Brian Lee, a helicopter pilot and firefighter/paramedic with the Los Angeles Fire Department, was killed, LAFD announced Monday evening.
His civilian passenger was in critical condition, the department stated in a news release.
Off-duty LAFD colleagues witnessed the crash and "rushed to render aid," the release said.
Both patients were airlifted to local trauma centers, but Lee died. He had just turned 47 and had served more than 25 years with the Los Angeles Fire Department.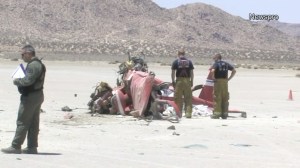 When first responders arrived, firefighters who had been camping at the lake bed were giving CPR to the two people who had been in the plane, sheriff's Cpl. Randy Naquin.
The firefighters had been taking turns flying the plane when some kind of trouble caused it to nosedive, Naquin said. The pilot attempted to recover and land the aircraft, but it did several barrel rolls, he said.
The passenger, a male juvenile, was taken to Loma Linda University Medical Center, Naquin said. The pilot had been taken to Palmdale trauma center.
The wreckage lay twisted on the sand, video from the scene showed.
The aircraft had taken off from the dry lake bed and planned to land there as well, according to Federal Aviation Administration spokesman Ian Gregor, who said the plane was a single-engine Grumman AA-1A.
The FAA and National Transportation Safety Board planned to investigate, Gregor said.
The lake bed is in a remote area that is popular for camping about 33 miles east of Lancaster and 55 miles northeast of downtown Los Angeles.
KTLA's Melissa Pamer and Tracy Bloom contributed to this article.
The @LAFD family mourns the loss today of veteran Firefighter/Helicopter Pilot Brian Lee. Our thoughts & prayers are w/ all involved.

— Chief Terrazas (@LAFDChief) June 10, 2014