This is an archived article and the information in the article may be outdated. Please look at the time stamp on the story to see when it was last updated.
A burglary in Alhambra was being investigated as a hate crime Tuesday after authorities discovered racial slurs painted on the walls inside the home.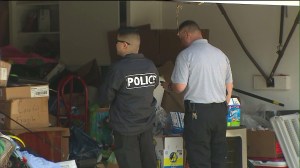 The burglars broke in through the back of the house Monday while no one was home, according to authorities.
"They just demolished this house," Sgt. Jerry Johnson of the Alhambra Police Department said.
The racial slurs aimed at African-Americans and the vandalism found inside the home was some of the worst authorities had ever seen.
The vandals destroyed every room in the house, according to Johnson.
The black family that lived in the home was staying with relatives while the investigation continued.
Because of the mess left behind, the victims were unable to determine exactly what was missing from the home, but told authorities four handguns had been stolen.
It was unclear if the family was specifically targeted by the vandals.