This is an archived article and the information in the article may be outdated. Please look at the time stamp on the story to see when it was last updated.
After detaining a 150-pound tortoise, the Alhambra Police Department on Saturday asked for the public's help in identifying its owner.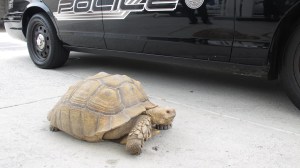 "The tortoise did try to make a run for it, but our officers are pretty fast," the department said in a statement. "Almost had a pursuit!"
Due to the turtle's weight, "it took two officers to take this guy into custody," the statement continued, adding that handcuffs were "not practical in this situation."
It was unclear exactly when and where the animal was found.
Alhambra police released multiple photos of the tortoise, and speculated that it might be a female because "it did not respond to 'Michelangelo,' 'Leonardo,' 'Raphael' or 'Donatello'" – a light-hearted reference to the fictional Teenage Mutant Ninja Turtles.
Authorities said the animal has distinctive markings and would be turned over to the Los Angeles County Department of Animal Care and Control location in Downey.
Anyone with information is asked to call the Alhambra Police Department's dispatch center at 626-570-5151.