This is an archived article and the information in the article may be outdated. Please look at the time stamp on the story to see when it was last updated.
A woman apparently trying to steal packages was caught on camera telling an Alhambra resident that her mother lived in his home, and now police are trying to identify her.
The incident occurred about 4:40 p.m. Tuesday in front of a home in the southeast portion of the city, in the area of Valley Boulevard and New Avenue, according to the Alhambra Police Department.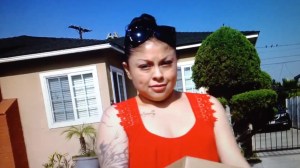 The homeowner parked and got out of his vehicle to find a woman walking away from his front porch carrying two packages. He began recording the woman on his cellphone.
"You know I live here?" he says in the video.
She responds inaudibly.
"If I were you, I'd put that down," he says. "Those are my stuff. I live here. This is my house."
"My mom lives here," she responds.
When he says he's going to call police, the woman drops the boxes and walks away down the sidewalk, apparently using her cellphone.
On Thursday morning, the Police Department shared the video on Facebook. Police described the woman as Hispanic and between 20 and 30 years old.
The resident doesn't want his exact address given out of fear, Sgt. Jerry Johnson said.
But the man did speak to KTLA, saying the packages that were nearly stolen contained items that were ordered to replace stuff taken when his vehicle was broken into last week.
The attempted thief did not seem remorseful at all, the homeowner said.
"I was like, man, this girl is crazy," he said. "I guess she got caught and she's mad about it."
The woman may be "in hiding," but it's just a matter of time before she is caught, Johnson said.
Police are aware that people have identified possible suspects by name on social media, including on KTLA's Facebook page, but they can't confirm the names of anyone being investigated.
"She may know that her name and picture has gone viral," Johnson said. "Turn yourself in."
Anyone who recognizes the woman in the video is asked to call police at 626-308-4875. Callers may remain anonymous.
KTLA's Alberto Mendez contributed to this article.
Correction: A statement in a video accompanying this article incorrectly stated the frequency with which Alhambra police receive reports of mail theft. Reports come in a few times a month, not a few times per week.