This is an archived article and the information in the article may be outdated. Please look at the time stamp on the story to see when it was last updated.
A 22-year-old Huntington Park man who was arrested on suspicion of assaulting a police horse during a World Cup celebration of Mexico's victory was wanted for failure to appear on a DUI charge, authorities said Thursday.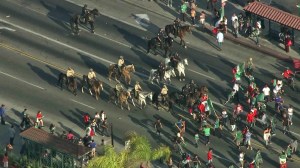 Richard Bandala was taken into custody Monday, when he allegedly lunged toward a sheriff's deputy's horse amid a police response to a celebratory crowd in the streets of Huntington Park.
Multiple arrests were made while officers and deputies responded to the city south of downtown, where hundreds marked Mexico's 3-1 win over Croatia. Fans were also detained later Monday during a celebration in Pacoima.
In Huntington Park, a line of mounted deputies with the Los Angeles County Sheriff's Department's Parks Bureau Mounted Enforcement Detail were among other public safety officers responding.
The deputies on horseback asked celebrants to move out of the street, but Bandala allegedly refused to comply and "lunged" at a 14-year-old police horse named Santana, according to a news release from the sheriff's Parks Bureau.
"The suspect continually jumped up and down and waived a flag in the face of … Santana, striking him a few times in the face with the flag and his fist," the release stated. "The suspect's action created such disorder that it triggered other celebrants to jeer at the deputies and crowd around the horses."
Santana was not injured, but Bandala was detained and found to be wanted on a warrant for failing to appear for a DUI charge hearing with $15,000 bail, according to the release.
He was arrested and booked on suspicion of misdemeanor assault on a police horse and obstructing a police horse.
He was released Tuesday morning, online county inmate records show.