This is an archived article and the information in the article may be outdated. Please look at the time stamp on the story to see when it was last updated.
The allegedly drunken driver accused of crashing into an Uber driver in South Los Angeles, killing her, has been charged with murder.
Kevin Moran, 24, was identified as the suspect in the death of Folesha Parker-Iverson, who died at the scene of the early morning crash Jan. 14.
Police had said the driver fled the scene on foot and was taken into custody later in the day, but his name had not been previously released.
The Los Angeles County District Attorney's Office announced his name and the charges against him — one count of murder and one count of hit-and-run driving resulting in death — on Thursday.
Moran pleaded not guilty Wednesday, the DA's office said.
Parker-Iverson, 52, was driving a black Honda Accord when the car was struck about 3:40 a.m. at Arlington Avenue and West Martin Luther King Jr. Boulevard, at the edge of Leimert Park.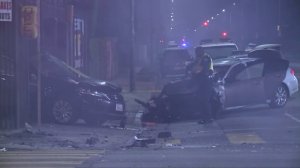 Moran was under the influence when he sped through a red light and hit Parker-Iverson's car, the DA's office said.
Surveillance video provided to KTLA showed a silver Infiniti running the light and slamming into the Accord.
The Uber passenger had to be cut out of the Accord and was initially hospitalized in critical condition, police said over the weekend. He was later reported to be stable.
Moran faces up to 26 years to life in state prison if convicted as charged. His bail was recommended at $2 million.
Parker-Iverson was a high school counselor who was widowed with two daughters, a friend said. She drove for ride-hailing services to supplement her income.