This is an archived article and the information in the article may be outdated. Please look at the time stamp on the story to see when it was last updated.
A 33-year-old Pacoima woman pleaded not guilty Tuesday afternoon to charges related to a crash that left a LAPD motorcycle officer critically injured.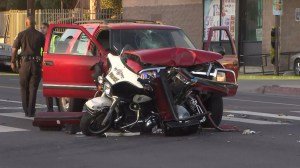 Qaneak Shaney Cobb was charged with two felonies — driving under the influence of a drug causing injury and possession of cocaine — the Los Angeles County District Attorney's Office announced.
She appeared in Van Nuys Superior Court, entering a not guilty plea.
Cobb allegedly failed to stop her Chevrolet Blazer and slammed into an unidentified 26-year veteran of the Los Angeles Police Department who was stopped on his motorcycle at a red light.
The officer was left crushed between the Blazer and a car in front of him. He had undergone multiple surgeries since the Saturday evening collision in Sun Valley.
Cobb's bail was set at $150,000 and she was ordered to return to court April 17.
If convicted, Cobb was facing more than 10 years in state prison. She has prior convictions for grand theft and drug possession, the DA's office stated.
Check back for updates on this developing story.