This is an archived article and the information in the article may be outdated. Please look at the time stamp on the story to see when it was last updated.
A man who was arrested for allegedly driving under the influence after crashing into 13 people in Alhambra was identified by authorities Monday.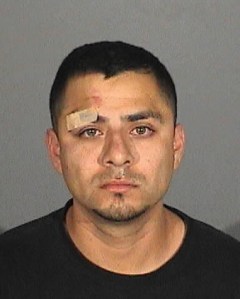 Ismael Soto, 28, was charged with felony DUI after a crash near North Fremont Avenue and Poplar Boulevard (map) Sunday night, Alhambra Police Department Lt. Garrett Kennedy said.
The Los Angeles resident was allegedly traveling northbound on Fremont when he turned into oncoming traffic and struck two parked minivans, Kennedy said.
Seven of those injured were pedestrians who were looking at a Christmas display on a front lawn.
Soto, who did not have a valid drivers license, was on probation for a DUI conviction in 2013, according to Sgt. Jerry Johnson of the Police Department.
Of the 13 injured, 11 were transported to local hospitals.
Police stated four victims were in critical condition following the crash, but as of Monday morning, just one person -- a 27-year-old woman who suffered a head injury in the crash -- was in critical condition at Huntington Hospital, Johnson said.
The youngest victim was a 7-year-old girl whose injuries were not very serious, according to Johnson, who said the rest of the victims also suffered minor injuries.
The cause of the crash was under investigation.