This is an archived article and the information in the article may be outdated. Please look at the time stamp on the story to see when it was last updated.
A suspected gang member has been arrested after deputies say he threatened the victims and told them not to call police after crashing into their car in Saticoy while he was drunk last month, sheriff's officials announced Monday.
Ventura County Sheriff's Office s deputies arrested Mario Gaona, 38, of Oxnard shortly after the July 10 crash on Nardo Street, south of Los Angeles Avenue, sheriff's officials said in a written statement. He was booked on suspicion of DUI and hit-and-run.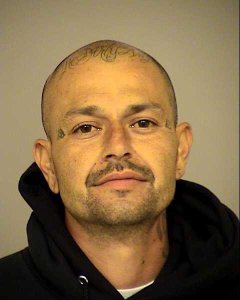 But as the investigation continued, "Detectives learned during the incident, Gaona attempted to dissuade the victims from reporting the traffic collision to law enforcement," the sheriff's department statement said. "Gaona further threatened the victims, stating he was a member of a criminal street gang and would commit acts of violence against them."
Investigators went to Gaona's home on Friday and carried out a search warrant.
They seized evidence indicating Gaona was affiliated with a gang, the statement said. He was re-arrested on suspicion of making criminal threats, witness intimidation and street terrorism.