This is an archived article and the information in the article may be outdated. Please look at the time stamp on the story to see when it was last updated.
The man accused of heading a multimillion-dollar illegal sports betting ring was taken into custody Wednesday morning during a raid on his Santa Clarita home, authorities said.
Cyrus Irani, 37, was among 17 people indicted in California, New York and Nevada on charges of unlawfully operating a sophisticated sports gambling enterprise that utilized offshore-based gambling websites to annually book more than $32 million in bets, a news release from New York county district attorney's office stated.
Asked about the Southern California raid, a spokeswoman for the FBI's Los Angeles office pointed to the release from the Queens County District Attorney's Office, issued Wednesday.
Irani and the other defendants were charged in the 126 count indictment with enterprise corruption, money laundering, promoting gambling and conspiracy.
Irani, who was described in the news release as the "bookmaker" who controlled and oversaw the entire operation, was taken into custody after FBI agents swarmed his home on Riverrock Way during a search for evidence, Lt. Stephan Margolis of the Los Angeles Police Department's Major Crimes Division said.
According to the indictment by a Queens County grand jury, the gambling operation utilized an 800 phone number and the off-shore internet website www.365Action.com to serve more than 2,000 active bettors.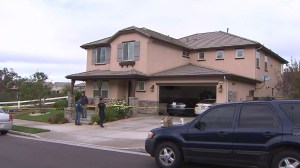 Irani decided on wager limits, approved new accounts and all money collected eventually funneled up to him, the indictment said.
The defendants accepted payments using credit cards and bank deposits ranging from $5,000 to $270,000, according to the news release.
"There are some who would argue that Internet gambling is a victimless crime.  I very much disagree.  Internet gambling has been compared by some to the crack cocaine epidemic of the late '80s and early '90s.  It is highly addictive and easy to get hooked.  It has been said of Internet gambling that you simply 'click the mouse and lose your house,'" Queens District Attorney Richard A. Brown stated in the news release.
At least 14 of the 17 defendants were in custody and each face up to 25 years in prison, according to the news release.
The investigation into Wednesday's arrests began in February 2014 when authorities in New York discovered information about a betting ring operating in Queens County and elsewhere.
Coincidentally, U.S. Immigration and Customs Enforcement agents also raided a separate location in Santa Clarita Wednesday morning in connection with a different investigation.
That case, in which federal agents were aided by the Los Angeles County Sheriff's Department, resulted in six arrests locally and in Arizona over street gang allegations involving illegal drug and firearm sales, according to ICE spokeswoman Virginia Kice.