This is an archived article and the information in the article may be outdated. Please look at the time stamp on the story to see when it was last updated.
Three alleged Huntington Beach vandals were arrested after they apparently called police on themselves Monday night.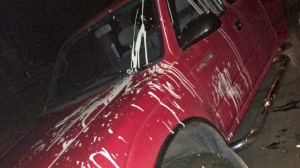 Just before 11 p.m., 13-year-old Chandler King looked through a window at his house on Crailet Drive (map) and noticed someone dumping paint on his older brother's truck.
Chandler yelled for his dad and sister, and they were soon in a car chasing the vandals, who had sped out of the neighborhood in their own vehicle.
"They were trying to lose us, but we kept on following them," Chandler said.
When the alleged vandals reached Magnolia Street and Hamilton Avenue (map), one of them called police and said he was being chased and was scared for his safety, the Huntington Beach Police Department stated in a news release.
That was good for the family in pursuit, as they had forgot their cell phone in the rush to get out the door, Chandler said.
Officers soon located both parties and found that the man who reported being chased had been out with his two friends throwing eggs at cars in a nearby neighborhood.
Surveillance video taken from outside the family's home also helped police determine the three were responsible for pouring paint on their truck.
The two men and one juvenile were arrested and charged with felony vandalism and conspiracy to commit a crime, the Police Department stated.