This is an archived article and the information in the article may be outdated. Please look at the time stamp on the story to see when it was last updated.
The college student accused of brutally stabbing three people to death and gunning down three others in Isla Vista legally owned multiple guns and had at least three run-ins with deputies prior to the rampage, the Sheriff's Office stated Saturday.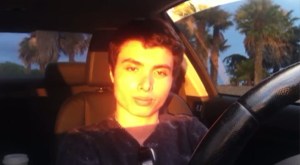 Elliot Rodger, 22, was identified as the suspected gunman who drove to multiple locations near the University of California, Santa Barbara Friday night killing six people and injuring 13 others with his vehicle, guns and sharp objects, before apparently killing himself, Santa Barbara County Sheriff and Coroner Bill Brown said.
The Santa Barbara City College student previously posted multiple videos online, including one where he said he was lonely and faced unfulfilled desires since puberty.
"Girls gave their affection and sex and love to other men, but never me," he said. "I don't know why you girls aren't attracted to me, but I will punish you all for it. It's an injustice, a crime, because I'm the perfect guy."
In the video Rodger said "tomorrow is the day of retribution" and that he would "have revenge against humanity, against all of you."
Rodger's videos and a 141-page autobiographical "manifesto" that documented his plans for vengeance and his upbringing showed how troubled he was, Brown said.
"It's very, very apparent that he was severely mentally disturbed when you review that document," Brown said.
Although officials said Saturday that Rodger had mental issues, he had legally purchased at least three guns before Friday night's rampage and three prior encounters with authorities.
"You gotta understand that when a firearm is purchased there is a check run on people who purchase the firearm. But if a person has not been institutionalized or has not been taken against their will and put on a hold, that information is not entered into a database and is not disqualifying information for purchasing a firearm legally," Brown said.
Prior run-ins with authorities
The 22-year-old had multiple encounters with authorities before Friday's shooting spree, Brown said.
In the first incident, on July 21, 2013, deputies contacted Rodger in a hospital where he was being treated for injuries and claimed to be the victim of an assault.
Rodger may have been the aggressor in the attack, according to a UCSB foot patrol officer who documented the incident, Brown said.
The case was suspended pending additional leads.
On January 15, 2014, Rodger placed his roommate under citizen's arrest for petty theft and contacted the sheriff's department.
The roommate was accused of stealing three candles valued at $22 and was later charged with petty theft by the district attorney, Brown said.
Then less than a month before the shootings, Rodger's family requested sheriff's deputies perform a welfare check on him.
On April 30, 2014, deputies met Rodger at his Isla Vista residence.
"Deputies contacted the suspect, at the time found him to be polite and courteous, he downplayed the concerns for his welfare," Brown said.
During the "fairly routine call," trained deputies did not think Rodger met legal standards for holding him for a mental health examination, Brown said.
"He expressed to the deputies that he had difficulties with his social life and that he probably would not be returning to school in the next year. The deputies discussed options with him in terms of support offered, resources to him and ultimately cleared that call," he said.