This is an archived article and the information in the article may be outdated. Please look at the time stamp on the story to see when it was last updated.
A 19-year-old Temecula man was arrested Thursday morning for the alleged "sextortion" of multiple young women, after he admitted to hacking into his victims' computers, taking naked photos and videos of them, then blackmailing them to send more, according to authorities.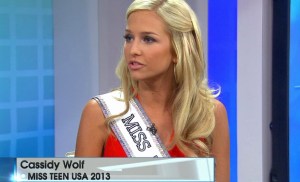 Jared James Abrahams, a computer science college student, allegedly used high-tech malware to hijack the webcams of many women, including California's reigning Miss Teen USA.
The hacking software allowed him to operate the victims' webcams remotely and take "thousands of nude pictures" of them in their homes without their knowledge, FBI agents said in a federal criminal complaint, which was filed on Sept. 17 and made public Thursday morning.
Abrahams used 30 to 40 different computers and a variety of anonymous emails to run his hacking operation, the FBI said.
The first victim to approach the FBI regarding Abrahams was then-Miss California Teen USA Cassidy Wolf, who later went on to win the Miss Teen USA crown.
In March, Wolf told officials that her social media sites had been broken into, her passwords changed, and her Twitter image replaced with a half-naked picture of herself, the FBI said.
She then received an anonymous email with two more nude photos of herself attached, which appeared to have been taken through her webcam in her Orange County home, according to court documents.
Abrahams threatened to publicly post the naked pictures he'd compiled onto Wolf's social media sites unless she "1) sent nude photographs, 2) sent a nude video, or 3) logged onto Skype and did what Abrahams told (her) to do for five minutes," FBI Special Agent Julie Patton wrote in the criminal complaint.
"Abrahams threatened to 'transform (Wolf's) dream of being a model into a pornstar' if (she) did not comply to his demands," the complaint stated.
Abrahams admitted to FBI agents that Wolf was the first person he hacked that he knew personally; both he and Wolf grew up in Temecula. He sent similar threats to other victims outside of his social circle in Southern California, "sextorting" girls from Maryland, Canada, Ireland, Russia, and Moldova, the FBI believes.
According to the criminal complaint, Abrahams successfully coerced some of the women into sending compromising photos or videos of themselves. At least one of the victims — a 17-year-old girl believed to be from Ireland — consented to undress in a five-minute Skype chat.
"Please remember I'm only 17. Have a heart," the victim allegedly messaged to Abrahams before downloading Skype. In response, Abrahams typed, "I'll tell you this right now! I do NOT have a heart!!! However I do stick to my deals! Also age doesn't mean a thing to me!!!"
FBI agents believe Abrahams likely blackmailed even more women than those in his federal charges, and they are working to identify additional victims.
Abrahams was released on $50,000 bond and will be subject to pretrial supervision and home detention with electronic monitoring, according to FBI spokeswoman Laura Eimiller.
The judge limited Abrahams computer use to a desktop located at his parents' home for school purposes.  Monitoring software will be installed on the computer used by Abrahams, Eimiller said.
Abrahams waived his preliminary hearing and is scheduled to be arraigned Nov. 4.