This is an archived article and the information in the article may be outdated. Please look at the time stamp on the story to see when it was last updated.
A female patient who says she was sexually assaulted by her surgeon as she came out of general anesthesia at a Temecula hospital described her ordeal Monday, when her attorneys announced their third lawsuit connected to the doctor.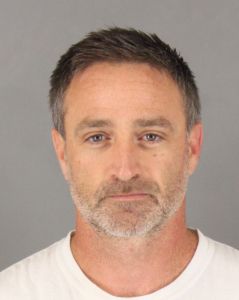 The civil suit claims that Dr. John Francis McGuire — already facing 26 felony counts in connection with multiple sex assault allegations against him — sexually assaulted plaintiff "Jane Roe No. 5" after she received a thyroidectomy at Temecula Valley Hospital in April 2015.
When she went to the bathroom after awakening post-surgery, the plaintiff felt evidence that she had been sexually assaulted while unconscious, according to a news release from her attorneys, John Mittelman and Jeffrey Milman.
In the weeks and months after the incident, the Murrieta woman said she struggled to come to terms with what had happened. Family and friends told her they believed McGuire had assaulted other patients.
"I did not want to believe that — a doctor, a doctor? Someone who you trust?" she told KTLA. "I just didn't believe it. I tried to get over it myself."
An "emotional wreck," she finally decided to go to police, she said.
McGuire, 44, was arrested by Temecula police in August and is being held on $3 million bail at the Southwest Detention Center in Murrieta, according to inmate records.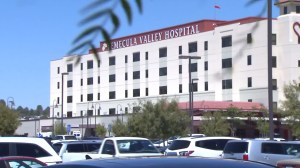 The criminal charges against him are for alleged sexual assaults of five victims, according to the complaint against him. He is due in court in Murrieta Friday for a felony settlement conference, a spokesman for the Riverside County District Attorney's Office said.
The civil lawsuit, filed in Riverside County Superior Court March 28 on behalf of "Jane Roe No. 5," alleges that — in addition to the sexual assault — McGuire went to the plaintiff's private recovery room alone three times, twice touching the patient's genitals under the pretense of examining a rash in her vaginal area.
"After the first time, I knew there was no rash. I knew something was not right," the plaintiff told KTLA. "The morning he came in to discharge me, he asked me one more time. I told him … 'There is no rash, I checked.' He was kind of startled, and set aback."
McGuire was an ear, nose and throat doctor. His license was suspended in September, state medical board records show.
His former partner, Dr. Michael Forrester, is also a defendant in the civil lawsuit. McGuire practiced in Murrieta, Temecula, Fallbrook and Escondido, according to the lawsuit.
The lawsuit was filed against Temecula Valley Hospital, its Pennsylvania-based owner United Health Services, and McGuire's medical group, North County ENT Medical Group. It alleges the defendants enabled McGuire to sexually abuse the plaintiff and, despite awareness of accusations of sexual misconduct against the doctor, continued to refer new female patients to him.
McGuire is also personally named in the suit.
It's the third civil suit filed in connection with allegations against McGuire, with a total of six plaintiffs, according to Roe's attorneys. Three of the victims were raped and two were subject to less serious sexual assaults, Mittelman told KTLA.
"I consider it to be a sexual rampage by Dr. McGuire," Mittelman said. "He took advantage of my clients. He did it in the most despicable ways possible. … It just strains the belief that nobody knew, no nurses saw, nobody knew anything. Of course, that's what everyone says."
Both Mittelman and his newest plaintiff said they believed there were additional victims, and they urged them to come forward.
The lawsuit alleges sexual harassment by a physician, negligence; civil rights violations; gender violence; negligent hiring, training and supervision; and medical malpractice.
In the criminal case, McGuire was charged with the following: three counts of rape by force or fear; two counts of sexual penetration of an unconscious victim; six counts of sexual battery involving restraint; nine counts of sexual act with a patient; three counts of sexual battery; and three other charges related to attempted sexual acts.
McGuire resigned his privileges from Temecula Valley Hospital in June and, in late July, opened a practice in Escondido, where he was arrested, the San Diego Union-Tribune reported last summer.