This is an archived article and the information in the article may be outdated. Please look at the time stamp on the story to see when it was last updated.
An allegedly armed man was sitting on top of a Hacienda Heights home Tuesday afternoon as Los Angeles County sheriff's deputies swarmed the scene and eventually took him into custody, the L.A. County Sheriff's Department said in a news release.
Law enforcement officials were called to the scene in the 16600 block of Carriage Place at about 2 p.m. as a crisis negotiation team was also called in, officials said. The man was armed with a black semi-automatic handgun, officials said.
It is unclear how the incident first began.
Just after 4 p.m., the man was sitting near the edge of the home's roof when uniformed officers placed a ladder against the house for him to climb down, as Sky5 footage of the scene showed.
As authorities were just getting the man to surrender, as he was getting off the house, a dog came out of a window of the home and started barking, as video showed.
The officers then surrounded the man shortly before placing him in handcuffs, as seen in video of the scene.
Homes in the surrounding area were evacuated, authorities said.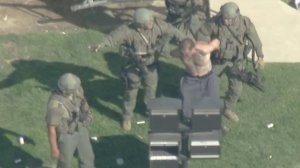 Earlier Sky5 footage showed the man sitting on top of the home before standing up and periodically raising his arms. He could be seen standing on top of a white towel and shuffling around just outside a window of the home as officers below tried getting him to come down.
No further information has been released.