This is an archived article and the information in the article may be outdated. Please look at the time stamp on the story to see when it was last updated.
An 8-foot-long alligator was seized Monday from the backyard of a Van Nuys home by Animal Control Officers from the Los Angeles Animal Services Department, authorities said Wednesday.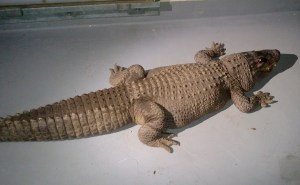 The discovery was made in the 13200 Block of Sylvan Street after authorities received a tip regarding the alligator, according to a news release from the Los Angeles Department of Animal Services.
The same property had been searched in late 2014 after officials received a similar tip, but no alligator was found at that time, the release stated.
On Monday authorities returned to the home.
The resident refused to allow officers to inspect the property, so a search warrant was obtained, according to Animal Services.
In the back of the yard, officers found the 40-year-old alligator in a covered box, the release stated.
Also located in the box with the alligator were what appeared to be the remains of two dead cats, authorities said. The carcasses were impounded along with the alligator.
Animal Services was conducting a full criminal investigation and was expected to present the case to the City Attorney's Office for prosecution.
Neighbors who've lost small pets in the area during the last 40 years and anyone else with more information were asked to contact Commander Mark Salazar at 213-482-7455 or mark.salazar@lacity.org.
Correction: An earlier version of this story attributed information to the wrong government agency. It has since been updated.