This is an archived article and the information in the article may be outdated. Please look at the time stamp on the story to see when it was last updated.
Video of an altercation between Santa Monica High School and Beverly Hills High School students following a rivalry basketball game has school officials concerned over an upcoming rematch Tuesday night.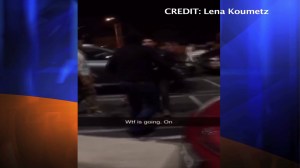 The cellphone video shows students in a parking lot near Santa Monica High School following a Jan. 23 basketball game between the schools, which Beverly Hills High School won.
Students from both schools had been taunting each other during the game before things escalated in the parking lot with punches being thrown.
One Beverly High School student said he and his cousin were surrounded by as many as 20 Santa Monica high students when he tried to drive out of the parking lot.
"I got a little room to get out from the back and some kid jumped on my car and started keying the trunk," the student said.
The student, who wished to remain unidentified, showed pictures of his damaged car.
The front headlight had been broken out and a dent was seen on the rear bumper, where someone had apparently kicked the car.
The two schools are scheduled to meet for another game Tuesday night.
Officials for both schools say they are taking what happened seriously and are taking precautions for the upcoming game.
"We have worked closely with Santa Monica school officials and the Beverly Hills police department to make sure everything goes smoothly tomorrow and all the positive energies are focused on the game itself," Gary Woods, the superintendent of the Beverly Hills Unified School District, said in a statement.
Correction: The date of the initial basketball game was inaccurately reported. The  post has since been updated. 
More video: