This is an archived article and the information in the article may be outdated. Please look at the time stamp on the story to see when it was last updated.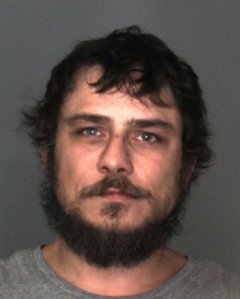 An Amazon employee was taken into custody in connection with a fire that broke out in the shipping facility where he worked in Redlands last week, officials said Wednesday.
Brian Allen Ingersoll, 38, was arrested on suspicion of arson last Friday, a day after a blaze damaged at least $250,000 worth of merchandise inside the e-commerce behemoth's fulfillment center at 2125 San Bernardino Ave., said Carl Baker, a public information officer for the city of Redlands.
The Redlands resident was inside the facility, apparently at work, when he was taken into custody by an arson investigator following the Redlands Fire Department's probe of the June 7 incident.
Authorities did not release many details on the fire other than to say it broke out around 7:30 p.m. It was unclear what evidence led them to determine it was arson.
Firefighters had responded to another blaze at the same location the day before, on June 6, around 9 p.m. Officials have blamed that incident on a malfunctioning solar panel.
In that fire, the flames were located in the "dead center" of the building and appeared to have originated on the roof. They were quickly extinguished and no one was injured, said Jim Topoleski, a battalion chief for the Redlands Fire Department.
In footage from the scene, a few dozen employees in orange and yellow reflector vests can be seen waiting outside the warehouse as authorities worked to deem it safe.
The 750,000-square-foot center opened last spring, after the company hired about 1,000 full-time employees to pack and ship large items there, such as sports equipment and patio furniture.
The company has not released a statement on Ingersoll's arrest. Court records show the 38-year-old pleaded not guilty in the case on Wednesday, the Redlands Daily Facts reported.
Ingersoll was being held on $250,000 bail and was expected to appear in court next Monday, June 18, inmate records show.