This is an archived article and the information in the article may be outdated. Please look at the time stamp on the story to see when it was last updated.
Three facilities in Southern California will be among Amazon's centers nationwide hiring 80,000 seasonal workers, the company announced Thursday.
The Seattle-based online retail giant has more than 50 fulfillment centers in the country, with three in the Inland Empire: in San Bernardino, Redlands and Moreno Valley.
Amazon said Thursday it was creating 80,000 seasonal positions across its fulfillment and sortation centers, with many of those positions expected to turn into regular, full-time jobs after the holidays.
Last year, the company announced 70,000 seasonal jobs, which in turn was up from 50,000 in 2012. On Thursday, it said 10,000 seasonal employees had been converted into regular, full-time positions so far this year.
"We're looking forward to converting thousands more across our growing network of fulfillment and sortation centers after this holiday season," said Mike Roth, Amazon's vice president of North America operations, in a statement.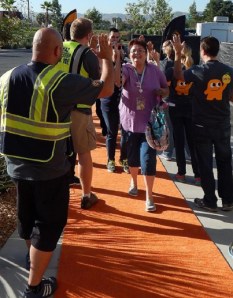 The three facilities in San Bernardino  and Riverside counties will be among those hiring, company spokeswoman Ashley Robinson confirmed in an email Thursday.
She didn't specify how many jobs would be available at each facility, but said "thousands" of seasonal employees will be hired by Amazon in California.
Average pay at Amazon fulfillment centers is 30 percent higher than traditional retail store jobs, according to the company.
Amazon's San Bernardino 950,000-square-foot fulfillment center opened in 2012.
The Moreno Valley facility — at 1.2 million square feet — was announced in October 2013 with plans to hire more than 1,000 people. It has since opened.
The company announced its plans for a 700,000-square-foot Redlands facility in August.  This week, the center shipped its first customer order — a scuba mask — to a customer in Tustin, Robinson said.
New employees were greeted at the Redlands facility with high-fives and a walk down the orange carpet, Amazon photos show.
Within California, Amazon also has fulfillment centers in Tracy and Patterson.
Applicants can apply at workatamazonfulfillment.com.