This is an archived article and the information in the article may be outdated. Please look at the time stamp on the story to see when it was last updated.
A 17-year-old boy with autism who was found safe following an Amber Alert in Paramount Friday morning used public transportation to find his way home after the car he was sitting in was stolen and then ditched, authorities said.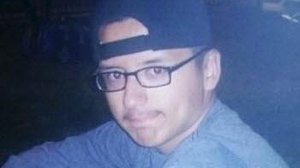 Frank (Frankie) Barboa was waiting for his sister to finish her shift at the Jack in the Box located at 6601 Alondra Boulevard when he went out to her car for a short time around midnight to charge a device, Los Angeles County Sheriff's Department Lt. Charles Calderaro said.
Officials initially identified the missing teen as Frankie Vargoa and said he had been waiting in the car while his sister was getting food, but later corrected the information at a news conference.
When Barboa's sister came out of the restaurant she noticed the car, a black 2015 Honda Civic, had been stolen.
Authorities initially described the vehicle as a 2009 Honda Civic, but updated the information in a news release.
Investigators believe the kidnapper stole the car without knowing Barboa was inside and then left the vehicle, with Barboa still inside, in a Paramount neighborhood about two miles from the Jack in the Box.
An Amber Alert was issued to help in the search for Barboa and the vehicle.
Calderaro said the Amber Alert was directly linked to residents discovering the vehicle around 8:30 a.m.
Barboa was no longer inside the car when it was found because he had left to use public transportation to find his way home.
Calderaro said Barboa, who has been diagnosed with autism and has the mental capacity of a 12-year-old, had been practicing getting around on the bus system.
Shortly after finding the vehicle, investigators received a call from family members that Barboa had indeed made it home safely.
"He's doing really well," Calderaro said, adding that family members were very thankful he was safe.
It was unclear how long Barboa had been waiting at the restaurant for his sister to finish her shift before going out to the car, but authorities believe it was at least a couple of hours.
Investigators are still searching for a person of interest, described only as a Hispanic female, who stole the car, Calderaro said.