This is an archived article and the information in the article may be outdated. Please look at the time stamp on the story to see when it was last updated.
Update, June 11, 2017: Police said a report of carjacking that led to an Amber Alert last week turned out to be false. The woman who gave it has been arrested on suspicion of filing a false police report. Read KTLA's story here. 
An Amber Alert was issued on Thursday after a 16-year-old boy was abducted from Los Angeles, officials said.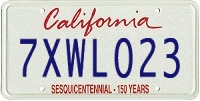 The boy, Eric Coleman, was taken around 4 p.m., according to the National Center for Missing & Exploited Children.
Officials believe he was abducted by Kandice Johnson, 31. The circumstances were unclear.
The two were believed to be traveling in a black 2014 Toyota Camry with California license plate No. 7XWL023.
Johnson was last seen driving the vehicle and should be considered armed and dangerous, officers said.
Coleman is described as a black teen with black hair and brown eyes. He is about 5 feet 8 inches tall and weighs around 150 pounds, officials said.
Johnson is described as black with red, green and black braided hair. She measures around 5 feet 3 inches tall and weighs about 147 pounds.
It was unknown what kind of clothing either might be wearing, and no photographs were immediately available.
No further details were immediately available.