This is an archived article and the information in the article may be outdated. Please look at the time stamp on the story to see when it was last updated.
An Amber Alert issued for three children who were allegedly abducted was canceled late Monday morning after they were found safe, according to the San Pablo Police Department.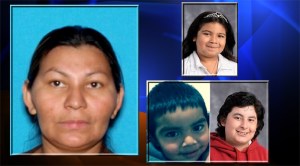 The children were reported missing Sunday night after the body of their father was found in his home, according to Sacramento TV station KTXL.
The three youngsters were identified as Hugo Anguiano, 12; Merari Anguiano, 6; and Jenh Carlos Anguiano, 3.
They were believed to be traveling with their mother, 35-year-old Alicia Ortez.
The three kids, as well as a person identified as a "suspect," were located in Richmond, which is a short distance away from where they had initially been reported missing, around 11 p.m, according to San Pablo police dispatcher Dianne Harden.
No one harmed, Harden.
Police did not give out any further information about the "suspect." No further information was available.
KTLA's Crystal Garcia contributed to this report.