This is an archived article and the information in the article may be outdated. Please look at the time stamp on the story to see when it was last updated.
Hours after an Amber Alert was issued for a 4-year-old boy who was thought to have been abducted, his body was found Sunday after apparently drowning in San Diego's Mission Bay, according to police.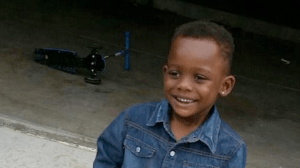 Wesley Hilaire was last seen walking near the water in the 2800 block of East Mission Bay Drive around 7:44 p.m. Saturday, the San Diego Police Department told KTLA sister station KSWB. Officials have spelled the boy's first name as both Wesley and Wesle.
A "bad lead" led police to think the boy had been abducted by a stranger during a family gathering, KSWB reported.
The Amber Alert offered a description of the man who witnesses claimed to see with the boy, and included a search as far north as Riverside and Orange counties.
The boy's body was found in Mission Bay, police confirmed around noon Sunday.
We are sad to report that 4 year old Wesley Hilaire has drowned. Thank you all for helping with the search.

— San Diego Police Department (@SanDiegoPD) September 13, 2015
The boy's body was found 100 yards offshore by rescue personnel using sonar, the Los Angeles Times reported.
"All of us at the San Diego Police Department wanted to find Wesley safe," police Chief Shelley Zimmerman said in a tweet. "Our heartfelt condolences and prayers to the family. Thank you to everyone who helped search."
The boy's father was a Navy sailor who had deployed last week, the newspaper also reported.
During the search for the missing boy, investigators also found the body of a 21-year-old woman in the kelp beds off Point Loma, according to KSWB.