This is an archived article and the information in the article may be outdated. Please look at the time stamp on the story to see when it was last updated.
Update: Daniel Morozov has been safely located, and his father -- who is suspected of abducting him -- was fatally shot in an officer-involved shooting in Encino Tuesday, authorities say. Read KTLA's latest story here. 
A man suspected of abducting his 9-year-old son, prompting an Amber Alert Tuesday, is also a "person of interest" in the slaying of the boy's mother who was found fatally shot at a home in Santa Maria, police said.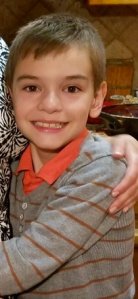 Authorities were called to the 200 block of North College Drive Monday, where they found a shooting victim dead at the scene, according to a Santa Maria Police Department news release.
During the investigation, police requested an Amber Alert for Daniel Morozov, the news release stated.
Morozov's mother was the victim in the shooting, police Sgt. Jesus Valle told the Los Angeles Times.
Konstantin Morozov, the boy's father, is believed to be with his son and is considered a "person of interest" in the slaying, Valle said.
An Amber Alert is in place for Santa Barbara, Los Angeles and Ventura counties, according to the California Highway Patrol. An emergency alert was sent to cellphones in the region just after 11:30 a.m., and freeway signs were lighted with messages about the Amber Alert.
Daniel Morozov stands 4 feet 5 inches tall and weighs about 90 pounds. He has brown hair and brown eyes.
Konstantin Morozov, 48, stands 6 feet tall and weighs about 180 pounds. He also has brown hair and brown eyes.
Konstantin Morozov left in a blue 2015 Volkswagen Golf hatchback, which was later found abandoned in Santa Maria, the Police Department tweeted.
Police said they believed the father and son moved to a black 2017 Jeep Cherokee with California license plate 7XZK698, but that vehicle was also discovered abandoned in Santa Barbara Tuesday afternoon, police confirmed. A neighbor told television station KEYT that the vehicle parked at about 2 a.m. and a man could be seen climbing into another car.
The Jeep has been towed away, a Santa Barbara police official confirmed.
"There is no new information on Morozov's whereabouts or any new vehicle he might be associated with," Santa Maria police said in a news release.
It was unclear where Konstantin Morozov may be headed with his son, but police asked that special attention be paid to international airports and border crossings.
Konstantin Morozov should be considered armed and dangerous, according to the CHP.
Anyone who spots the two were asked not to approach, but to call 911 instead.
KTLA's Melissa Pamer contributed to this article.
AMBER alert update. The black Jeep Morozov was believed to have been traveling in was located earlier this date. https://t.co/KGCzguDeXD

— City of Santa Maria Police Department (@SMPDHQ) August 22, 2017
Amber Alert update Volkswagen found abandoned in Santa Maria may be travelling in a blk late model SUV https://t.co/GcheWKqjsx pic.twitter.com/P0aNwaTEBf

— City of Santa Maria Police Department (@SMPDHQ) August 22, 2017
Daniel & Konstantin Morozov are likely in a black 2017 Jeep Cherokee license 7XZK698. AMBER Alert updated https://t.co/GcheWKqjsx

— City of Santa Maria Police Department (@SMPDHQ) August 22, 2017