This is an archived article and the information in the article may be outdated. Please look at the time stamp on the story to see when it was last updated.
An ambulance was stolen in downtown Los Angeles and crashed near MacArthur Park Sunday after a similar incident earlier in the week, officials said.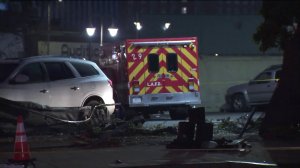 The unoccupied ambulance was taken as L.A. Fire Department paramedics assessed a patient on scene around 3:45 a.m., according to a statement from the agency.
The theft happened near Seventh Street and Grand Avenue, Los Angeles police told the Los Angeles Times.
Officials dispatched another ambulance to transport the patient to a local hospital.
The Fire Department said police quickly located the stolen vehicle, which crashed about two miles away at 2634 W. Seventh Street in the Westlake neighborhood of Los Angeles.
LAPD said the thief had already fled the scene by the time officers arrived, according to the L.A. Times.
No injuries were reported.
Authorities provided no further information.
Another unoccupied ambulance was stolen in downtown L.A. on Tuesday, leading to the arrest of a woman who led officers on a slow-speed pursuit that ended about 36 miles away in Chino Hills.