This is an archived article and the information in the article may be outdated. Please look at the time stamp on the story to see when it was last updated.
With emergency water conservation measures set to expire next month, the state water board on Tuesday approved slightly stricter water-use rules for urban areas.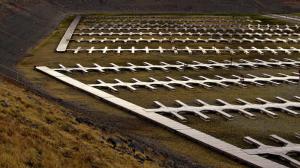 Meeting in Sacramento, the State Water Resources Control Board approved an extension of outdoor watering restrictions approved in July, along with new rules -- emphasize reduced outdoor watering -- that are set to go into effect in 45 days instead of the 30 days originally recommended.
The changes were urgently needed as the state entered its fourth straight year of severe drought, said Max Gomberg, the board's climate change advisor. Abnormally dry conditions began in late 2011 and have worsened since then, according to federal data.
The most recent figures show that this week, as the state's rainy season nears an end, more than 93 percent of California is experiencing drought conditions considered severe or worse.
"It's a really tough spot we're in right now. There were hopes for El Niño. It didn't show up," Gomberg said. "Our snowpack is the lowest it's ever been; that means very little runoff into our rivers and into our reservoirs, which are going to be drawn down during the hot summer months."
"If it doesn't rain and snow this coming winter, we're going to have ever more of a catastrophe on our hands than we're already experiencing," Gomberg continued.
Last week, a scientist with NASA/JPL wrote in a Los Angeles Times opinion piece that the state has "only about one year of water supply left in its reservoirs."
Under the proposal before the board Tuesday, urban water suppliers — about 400 statewide — must require customers limit to limit the number of days that customers can conduct outdoor watering. If a local water agency fails specify the number of days or approve its own restrictions, the state regulations would limit the watering to no more than two days per week.
Many suppliers, including the Los Angeles Department of Water and Power, have already implemented such rules.
The new rules mark the most sweeping mandate on outdoor watering in state history, the Sacramento Bee reported. Even in the extreme drought of 1977, the state did not consider such a measure, the newspaper reported.
But in Southern California, few will be effected because of already existing local water restrictions, the Los Angeles Times reported.
Urban water suppliers must now limit the number of days per week that customers can irrigate outdoors. The limit must either be specified in their drought contingency plans; or if their plan contains no specific limit, irrigation is limited to no more than two days per week.
"People don't realize that half of urban water use is outdoors — basically, soaking lawns that don't need it," said board chairwoman Felicia Marcus.
Restaurants will be required to serve water only on customer request, and hotels and motels must allow patrons to decline sheet and towel cleaning.
Watering of lawns and landscaping in the two days after a rainstorm will be prohibited.
The board also extended measures approved in July, which had been set to expire April 25. Those regulations banned the use of water to wash hard surfaces outdoors, and mandated the use of a shut-off nozzle to clean cars. Decorative water fountains were also banned, among other restrictions.
Local governments will continue to be able to issue fines of up to $500 per day for violating regulations.
The board meeting took place two weeks after the board announced a steep decline in water conservation statewide. Despite pleas from Gov. Jerry Brown and public outreach campaigns, conservation declined from 22 percent in December to 8.8 percent in January.
Conservation must increase, Gomberg said.
An 800 number will be set up for Californians to report water waste all over the state. The information would be relayed to the local water district, Gomberg said.
"Permanent" conservation measures and further emergency restrictions were under consideration for a future vote.
Without significant snowfall next winter, "massive, drastic restrictions on outdoor irrigation are going to be on the table," Gomberg said.
More video;