This is an archived article and the information in the article may be outdated. Please look at the time stamp on the story to see when it was last updated.
Californians used 13.5% less water in April compared to the same month in 2013 in response to Gov. Jerry Brown's historic executive order requiring increased conservation in the fourth year of drought, the State Water Resources Board reported Tuesday.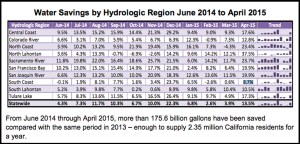 The decline in water use comes as local water officials statewide have scrambled to implement new watering restrictions aimed at achieving the 25% urban water-use reduction Brown ordered on April 1.
Although Californians conserved far more in April than in the three previous months, the data released Tuesday also showed that the state has a long way to go before it meets Brown's target. Cumulative water savings since summer totaled only 9% compared with the same 11-month period in 2013, the board said.
The new conservation figures come as California water agencies try to figure out how to slash water consumption even further during the hot, dry summer months ahead. Water board officials have stressed the need to reduce outdoor water usage.
Click here to read the full story on LATimes.com.