This is an archived article and the information in the article may be outdated. Please look at the time stamp on the story to see when it was last updated.
A secret witness expected to testify at a hearing in the murder case of New York real estate scion Robert Durst will not take the stand until Wednesday, prosecutors said in court.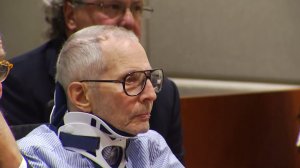 Prosecutors had sought to question two witnesses this week ahead of the trial to preserve their testimony in case either of them dies or is killed. A preliminary hearing is scheduled for October, meaning the trial is unlikely to start until at least 2018.
At an earlier hearing, Superior Court Judge Mark E. Windham said prosecutors had presented evidence showing a "possible danger" to the unknown witness. The unknown witness has only been identified as a man.
Durst, 73, is charged with murder in the execution-style slaying of his friend Susan Berman. Prosecutors say he fired a single shot through the back of her head inside her Benedict Canyon home in 2000, allegedly because she knew too much about the disappearance of his first wife, Kathleen. He has pleaded not guilty.
Click here to read the full story on LATimes.com.