This is an archived article and the information in the article may be outdated. Please look at the time stamp on the story to see when it was last updated.
Hail and rain fell and lightning struck in multiple areas of Southern California Thursday afternoon, adding a wild, stormy edge to an oppressive and continuing heat wave.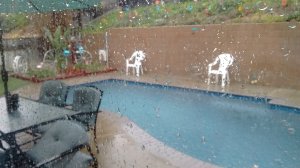 Beginning about 3 p.m., severe thunderstorm warnings were issued in multiple area of the Inland Empire, including Lake Elsinore, Wildomar, Riverside, Fontana, Rialto and Moreno Valley. A flash-flood warning was in effect through 7 p.m.
Just before 5 p.m., the storms were beginning to cross from San Bernardino County into the Los Angeles County mountains, and they were moving into the Los Angeles Basin by 6 p.m.
Around 6 p.m., lightning prompted the evacuation of beaches in Santa Monica.
KTLA viewers sent the station video of hail and rain pounding their neighborhoods. In Wildomar, a fierce storm knocked a patio chair into Bernardo Flores's sliding glass door, he said. He captured video of an intense downfall of hail.
The temperature dropped from 108 degrees to 69 degrees when the storm went through Wildomar, the National Weather Service's San Diego office said. Multiple power poles were down in the area.
Showers and thunderstorms quickly developing across the LA Basin. Look for brief heavy rain, small hail and gusty winds with cells. #LArain

— NWS Los Angeles (@NWSLosAngeles) September 1, 2017
Numerous power poles down in Wildomar along Corydon Street. Police on scene, we are doing storm survey #Monsoon2017 pic.twitter.com/58bv6uPNzp

— NWS San Diego (@NWSSanDiego) September 1, 2017
Heavy rain was also reported in the Santa Clarita Valley and along the Grapevine, the weather service's Oxnard office said.
Burbank, meanwhile, hit 108 degrees, breaking a 2007 106-degree record for the date.
Thousands were without power for most of Thursday amid the heat wave, which is expected to continue through the weekend.
https://twitter.com/Tin_Man30/status/903423142055493632
Correction: An image featured in the embedded video above failed to properly credit Andrew Reyes.