This is an archived article and the information in the article may be outdated. Please look at the time stamp on the story to see when it was last updated.
Amid concerns over mudslides, residents of Glendora on Monday continued to fill sandbags and prepare for voluntary evacuations in anticipation of an expected rainstorm.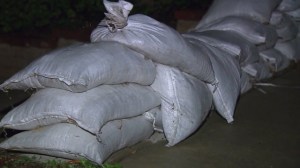 On Monday afternoon, officials said they planned to update the city's alert status from yellow to orange in the area affected by January's Colby Fire, which burned just under 2,000 acres of brush in the San Gabriel Mountain foothills on the city's north side and in neighboring Azusa.
When the alert level changes to orange at 6 a.m. Tuesday, voluntary evacuations were set to begin, according to a tweet from the Glendora Police Department.
An evacuation center was being set up at the Crowther Teen & Family Center located at 241 W. Dawson Ave., according to a news release from the city.
A Pacific storm system may bring significant rain to much of Southern California on Tuesday, the  National Weather Service said, with the possibility of a two-to-three hour burst of heavy rainfall that may result in flash flooding and mudslides.
"In the event that you do not make it out in time ... and you do see mud flow, we're recommending to shelter in place and go to the highest place in your home," said Lt. Matt Williams with Glendora Police Department.
Parking restrictions were in effect in Glendora on Monday morning, and residents were directed to remove vehicles, trash bins and other obstructions from streets in the area, according to a statement on the city's official Facebook page.
For evacuees with pets, the Inland Valley Humane Society will be available for assistance at the Crowther Center.
Horses could be evacuated to the Los Angeles County Fairplex at 1101 W. McKinley Ave. in Pomona at Gate 1, the release stated.
At the city yard, pre-filled sandbags were stacked on pallets and offered to residents who showed proof of address. Large piles of sand were also made available to those who chose to fill empty bags themselves.
Along residential streets below the Colby Fire burn area, K-rail barricades remained in place between homes and the roadway as a precaution against possible mudflows.
KTLA's Melissa Pamer and Kennedy Ryan contributed to this article.
More video: