This is an archived article and the information in the article may be outdated. Please look at the time stamp on the story to see when it was last updated.
Lifeguards rescued more than 400 swimmers at L.A. County beaches on Tuesday, including 18 in a "blitz" rescue off Venice Beach, as the region was hit by a combination of high surf and strong rip currents.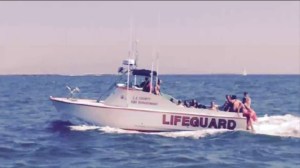 The blitz rescue occurred Tuesday afternoon after dangerous rip currents rolled into the area, catching many swimmers and surfers in the ocean off guard.
"Within minutes of seeing that, the lifeguards kind of went on high alert and all of a sudden there was probably 10 to 15 lifeguards in the water in two rescue boats," a witness who took photos of the multi-person rescue told KTLA during a phone interview.
Describing the scene as "chaotic," he added it was quite a sight to see the lifeguards risking their lives to save others.
"It was really incredible to see them," the witness said. "There were three people attached to … one lifeguard."
Later that day, the Los Angeles County Lifeguards Twitter account tweeted that strong rip currents were expected to continue through Friday, prompting officials to warn swimmers to stay near an open lifeguard tower.
Lifeguards believe more people will head to the beaches in the coming days to escape the sweltering heat and humid conditions that are forecast to hit Southern California.
They expect the combination of more beachgoers and the threat of rip currents will mean even more rescues the remainder of the  week.
"Probably similar to today, this was a busy day, and we're expecting – because of the warm weather and continuing south swell – we're expecting same kind of activity, and our beaches are completely fully staffed," lifeguard Lydia Barillas said.
She offered some advice to those looking to swim at local beaches amid the dangerous conditions.
"Please swim in front of an open lifeguard, and ask questions, ask the lifeguard where the hazards are, where it's safe to swim. And use your best judgement, and stay off any rocks and jetties," Barillas said.
The National Weather Service San Diego -- which also covers the Orange County area -- has warned of dangerous rip currents and elevated surf through Wednesday evening at some Southern California beaches.