This is an archived article and the information in the article may be outdated. Please look at the time stamp on the story to see when it was last updated.
A pedestrian died after being struck by an Amtrak train in Sun Valley on Sunday afternoon, officials said.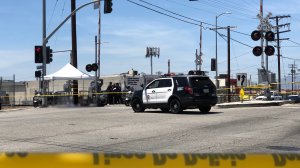 The incident happened around 1:14 p.m. in the 7400 block of Coldwater Canyon Avenue, the Los Angeles Fire Department stated. The person hit by the train was pronounced dead at the scene, according to the statement.
While suicide was not ruled out, it appeared the unidentified victim was killed while trying to beat the train across the tracks, an officer with the Los Angeles Police Department told KTLA.
The victim was believed to be a man in his 20s, officials said. His name was not immediately released.
The investigation was ongoing.
KTLA's Steve Bien contributed to this story.